The production workshop of our company mainly consists of the processing workshop and the assembly workshop.
Metalworking workshop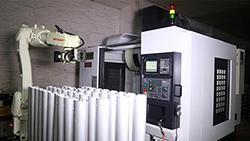 Introduction of metalworking workshop
All the mechanical parts in dental unit are finished in metalworking workshop. With several intelligent machining lathes and CNC machining equipment imported from Taiwan, which can complete parts processing automatically, our production capacity can reach 3000 units monthly.
Assembly workshop
Introduction of assembly workshop
The assembly area is under strict management, from the start of the processing of pipe fittings, the workers are asked to make them according to the drawings into required size for the equipment. The production of handpiece racks only needs to assemble all the parts and then they can be sent to the warehouse for later use. The parts warehouse more than 100 square meters, placed with more than 300 types of spare parts of dental equipment, can ensure high production efficiency. Assembly process primarily consists of the assembly of seats, racks and tool trays, and each procedure should be carried out in the designated area. The finished dental equipment all needs to be debugged and tested before it is packaged and sent to market.
Assembly process
Testing workshop
Every type of dental equipment in our company has been strictly tested before leaving the factory.
The testing process is as follows:
1) Check whether the dental chair bearing capacity meets the standard.
2) Check whether each part in the dental chair is damaged or unqualified.
3) Check the water pipe and the air pipe in the dental chair for breakage and aging.
4) Check whether the motor lifting and backrest running are mute, and whether the performance is stable.
5) Check whether all the control devices of the dental chair are operating normally.
Each step above needs to be repeated more than three times, in order to make sure the dental chair reaches 100 percent to the customer standard.
Packaging and delivery of finished products